Internationally Published
My Story
"This fiction can become reality. Our reality."
–USA Today
Joe's 1997 technothriller CODE:ALPHA anticipated ways terrorists might launch a man-made plague and wipe out the entire population of the U.S. eastern seaboard.
He drew from his own experience with the ocean-going behemoths. Standing in the engine room of a 70,000 deadweight-ton oil tanker en route to a refinery in Virginia, Joe spent several days interviewing its captain for a magazine article.
His own voyage as a writer began, improbably, in the steel-town of Pittsburgh, Pa., where he published The Berry Street News at age 10.
After graduating from Duquesne University with a degree in journalism, Joe earned a master's degree in rhetoric and communications from the University of Pittsburgh.
Editorial assignments from a major oil company took him to the Middle East, Europe and South America, where he experienced first-hand many of the conditions endured by characters in GORGON.
Along the way, Joe has written more than 2,500 articles on a variety of technical topics for corporate and trade publications – and authored four other best-selling novels.
Now founder and CEO of Safari Multimedia, LLC in Texas, he builds killer websites for corporations and helps writers edit, design and publish their own stories.
AMAN
Special Edition
Four strangers become inextricably bound when they put their lives on the line to help a mysterious old man complete a harrowing journey to avert mankind's extinction.
The Resurrection of
Andrew Finsbury
Caught between the world of the living and the dead, Andrew Finsbury races to save his soul and the life of the woman he loves.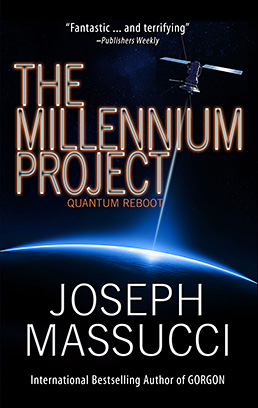 The Millennium Project:
Quantum Reboot
Russian hacking of the U.S. strategic defense satellite network is a mask for a much more insidious plan for boundless fortune and power.
GORGON
When Gorgon targets the U.S. Eastern Seaboard, a desperate president orders all military resources directed at the virus' destruction – even a thermonuclear hell.
"(ANDREW FINSBURY) is a great and amazingly atmospheric story! The writing is wonderful and achieves a captivating melding of historical and supernatural fiction."
– Chris Beakey, author of DOUBLE ABDUCTION
"Filled with vivid air disaster, high-tech intrigue and a roller-coaster race again an immutable deadline, THE MILLENNIUM PROJECT is a smart action thriller, sure to please readers of Tom Clancy, Michael Crichton, Clive Cussler, and Ken Follett."
"(EXTINCTION is) amazing stuff, really trippy and very imaginative writing. And suspensefull!"
– Ann Collette, Rees Literary Agency
"(GORGON) can become reality.
Our reality."