Christopher Funk is a cheerful, handsome 5-year-old who enjoys playing with his friends in the schoolyard and showing off his drawings in kindergarten class. But when he was born, a doctor told his parents that he was probably mentally retarded and would never walk or control his bodily functions — in short, that he would be a vegetable.
"Chris belongs in an institution," the doctor told Rita Funk and her husband, Terry, who live just outside Lubbock, Texas. "He'll probably be a tremendous burden to your lives and to your marriage. It would be best to forget that you ever had this child."
Chris is a victim of spina bifida (cleft or open spine), a potentially devastating birth defect that afflicts one in every 1,000 newborns-the most common crippler of children. During the early development of the fetus, the spinal column's bony case does not develop properly and fails to close completely around the spinal cord, thus leaving exposed the nerve roots of the central nervous system.
Besides this condition, Chris had hydrocephalus (commonly called water on the brain), missing hip and knee joints, and bilateral club feet.
Chris was only a few hours old when he underwent major surgery to close the opening in his back. Two days later, a specialist inserted tubes in his head to shunt excess fluid and thus relieve pressure that could cause brain damage.
Tiny Bundle
Despite her grief, Rita had to see this tiny bundle that had caused so much commotion. Her son was a day old and she had yet to hold or see him. Because Chris had undergone major surgery, she had to scrub and put on a sterile mask and gown before entering the newborn intensive-care unit.
"Here he is, Mrs. Funk," the nurse announced. "You have such a special child."
Rita had prepared herself for a ghastly deformed infant. What she saw was a beautiful baby. She recalls touching Chris' rosy little cheeks, stroking his tiny hands, and running her fingers through the black curly cap of hair. "He was a special child," she says.
The Funks refused to follow the doctor's advice and give up their son. They vowed that Chris would know love and not be doomed to a life of impossibilities.
Rita told her doctor, "Chris will go home with us where we will love him, if nothing else, and cope with his problems one day at a time." This love and determination have helped Chris, and many other spina bifida children in the Lubbock area, lead the type of normal life some medical specialists thought would not be possible.
Until recently, spina bifida (SB) babies died shortly after birth or were doomed to a life marred by severe physical and mental handicaps. Today, many physicians still don't realize that the outlook for children like Chris Funk is considerably brighter. Most of these children, in fact, are of normal intelligence and have the potential to lead independent and productive lives.
Raising a Spina Bifida Child
In the years since Chris' birth, the Funks became, by necessity, experts in coping with and raising a spina bifida child. Contrary to the doctor's negative prognosis that Chris would be a strain on their marriage, the Funks have grown closer.
"We have to work as a team," Rita says. "For example, Chris needs several hours of therapy a day where he does sit-ups, push-ups, and other exercises to avoid possible tissue atrophy. I usually help Chris with his morning therapy, and Terry gets the afternoon and evening sessions."
While Rita was teaching Chris how to read and count to 100, Terry was busy making special equipment for Chris. Instead of paying hundreds of dollars for therapeutic aids such as a standing box, parallel bars, a desk, and other adapted appliances, Terry fashioned the equipment from old scraps of metal and a few screws. "It works just as well as store-bought equipment," Terry says. "It just doesn't have a brand-name label on it."
Like most youngsters, Chris is quite active. He gets around with braces and a walker, and is learning to use crutches. At school, being an energetic kindergartner, he manages to keep up with the other children very well.
Chris' baby sister, 22-month-old Amy-Alison, is not affected by spina bifida, although there is a risk that siblings also can be born with the birth defect. "Amy is a vivacious playmate for Chris," Terry says. "We often worry about sibling rivalry. But so far, it has been no problem at all."
Encouraging Parents of Children with Birth Defects
Drawing inspiration from the progress of their handicapped son, the Funks devote much of their time to encouraging parents of children suffering from serious birth defects. If a spina-bifida baby is born in the Lubbock area, a caseworker will notify the Funks within six hours of the delivery so that they can immediately counsel the parents. "It's important that we talk to the parents the first day," Rita says. "They need to know that, despite what the doctor says, their child's case is not hopeless."
The Funks knew there were other parents with spina-bifida children in West Texas who needed help. "Couples with handicapped children have a real need to exchange ideas with other parents facing similar problems," Rita says. But the closest spina-bifida chapter was in Dallas, more than 300 miles away.
Rita wrote to the Spina Bifida Association of America National Headquarters in Chicago and provided a synopsis of why she was qualified to start her own chapter in Lubbock. The association gave her the nod to start a provisional chapter.
One year later, Rita was president of the fully accredited Lubbock chapter, and Terry was treasurer. Currently, there are 50 members of the chapter who meet once a month for support, guidance, and exchange information. Future goals of the chapter include organizing family-oriented recreational activities and, ultimately, to set up a spina bifida clinic with the help of Lubbock General Hospital's funding and doctor participation. Only one month after developing her chapter, the Spina Bifida Association of Texas presented Rita with its Outstanding Chapter Leadership award at its annual convention in Houston.
A Poster Child
In November that year, the Funks received a letter from then-President Reagan acknowledging the administration's special interest in spina bifida and designating October as spina-bifida month. "I wrote back to the President thanking him for the recognition, and told him about Chris and the hopes of our local spina-bifida chapter," Rita says.
She received a personal reply from Reagan, part of which reads: "Thank you for your letter and for sharing with me the encouraging news about your son, Chris, and all the members of the Lubbock Chapter of the Spina Bifida Association. I am pleased to know that Chris is a beam of light in your lives, and it is evident that that light radiates and touches all those around you. Again, thank you for your thoughtful words, and may God bless you."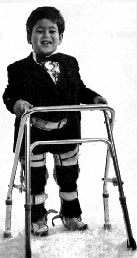 In December, the local Easter Seal Society asked Chris to be the Easter Seal Poster Child for 1984. Since accepting the honor, Chris has appeared on national television during March's Easter Seal Telethon and has made numerous local appearances. "We are all so happy and proud," Rita says. "Chris is setting an example for other handicapped children that life is not impossible, and that accomplishments can be realized regardless of the disability."
The Funks have come a long way since that day in 1978 when their doctor proclaimed normal life was an impossibility for Chris. "The first mistake parents can make with their handicapped child," Terry says, "is believing that a miracle will take place overnight. The second mistake is believing that a miracle cannot happen. Nothing, however, can be realized without an honest effort and a lot of love."
For more information:
Spina Bifida Association
1600 Wilson Blvd, Suite 800
Arlington, VA 22209
Phone: (800) 621-3141 or (202) 944-3285
Fax: (202) 944-3295
E-mail: sbaa@sbaa.org
Web site: www.spinabifidaassociation.org
This article originally appeared in Torch Magazine, 1983
Copyright © Joseph Massucci